Table of Contents
Adam A. Zango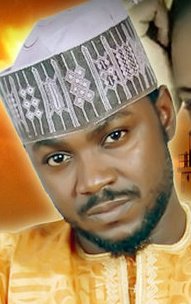 Occupation Actor
Born Adamu Abdullahi on October 1, 19851) in Zango, Kaduna State, Nigeria2)
Social: @princeazango, Adam A. Zango on Instagram (photos/hotuna), YouTube, Snapchat, Facebook
ADAM A. ZANGO was born in 1985 at Zango local government in Kaduna state, Nigeria to the family of Mallam Abdullahi and Hajiya Yelwa Abdullahi, a black smith.
Started his primary school career: 1989-1995, secondary school: 1996-2001.
CAREER

His musical career started way back from secondary school activities lead days / social club events which he used to represent his school in government secondary school laranto jos plateau state.
The whole inspiration came as result of lack of sponsorship to proceed for his higher learning so the dreams of becoming a musical/movie star.
Adam A. Zango Images
Personal Life
Filmography
Films
Adam Zango, a natural legend By Imam Younus
via: Development Post May 20, 2016
While many celebrities in the Kannywood industry struggles to create an impact in the film industry, Adam Zango popularly called 'Usher' do not need to go that extra mile as he was born an actor with great talents in Music and acting.
Adam Zango started as a Musician and gradually he triumph in to becoming one of northern best hip-Hop Hausa singer. He mix the western 'swag' with the natural northern cultural dance in his music.
He is popular and very attractive.
According to some Kannywood fans and actors, Adam A. Zango is the delight to many celebrities in the industry.
Movies produced from the stable of Zango productions seems to make a hit all through it reigns'. His friend and producer Falalu Dorayi said "Adam Zango is one personality that cannot be compared in the industry. He is humble, calm and very articulate in ideas."
Mansur Make–up, Horo Dan mama and many others will rather put his pictures as there recognition image than use theirs on their social media pages because of the love they have for Adam.
Kannywood Producer, Uzee concept, said Adam is one actor that when you meet him you will want to meet him a second time.
His new Album 'Mailaya' was a classic one this moment. Very entertaining and revealing.
One of his super classic movie of 2015, HINDU, got nominated 11 times in the rececnt Kannywood Awards, it got 6 awards.
His acting in Hindu was one that has never been done in the history of the Kannywood.
Adam Zango acted beside a relatively new actress in the Industry, Umma Shehu in a film called Sa'in'sa, a film that won the new actress The City People Award in 2014.
According to Umma Shehu acting beside Adam was an opportunity for her to shine and she made a great outing.
Adam has every reason to respect his colleagues, he said. Although not quite smooth at some point, Adam Zango barely call Ali Nuhu by his name because of his humility. He rather call him Oga Sir, or Yallabai. The duo were recipients of the 2016 African awards in London.
News and Links
Relationship with Nafisat Abdullahi
An hana ni aure saboda zargin luwadi - Adam A Zango - BBC Hausa
http://bbc.in/2uAe5w2 / http://www.bbc.com/hausa/labarai-40602698 (Fb post | Twitter post) - Juli 18, 2017
Fitaccen jarumin fina-finan Hausa, Adam A Zango, ya ce a kullum yana kwana yana tashi da bakin cikin zargin da wasu suke yi masa na zama dan luwadi (neman maza).
A wata hira ta musamman da BBC, Zango ya ce wannan ne ya sa a wani lokaci a baya jarumin ya dauki Alkur'ani ya rantse cewa bai taba neman wani namiji da lalata ba.
"Wannan abin yana hana ni barci, kai har ma na taba zuwa neman aure amma aka hana ni saboda haka," in ji Zango.
Game da batun cewa dan wasan yana da girman kai, jarumin ya kare kansa "Idan kana maganar masoya kana maganar miliyoyin mutane, to ta ya ya zan gamsar da su?"
Daga nan ya nemi masoyansa su rika yi masa uzuri domin shi ma mutum ne kamar kowa, kamar yadda ya ce.
A karshe ya yi magana kan yadda ake cewa 'yan wasan Hausa "kudi suke nema kawai", inda ya ce "muna yin fina-finan da za su kawo mana kudi."
Adam Zango ya kuma tattauna abubuwa da dama a hirar ciki har da alakarsa da Ali Nuhu da Nafisa Abdullahi da sauran batutuwa.
Share this page