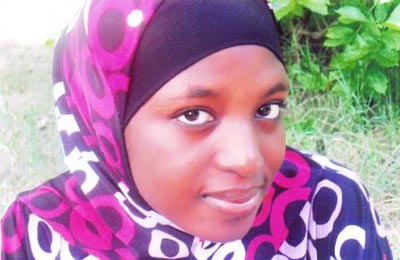 Occupation Actress
Born Hannatu Bashir on October 2, 1992 (Age: 30 years old) from Kano, Nigeria.
Weekend Magazine Published Jan 21 20171): Can you tell us about yourself?
Hannatu Bashir: My name is Hannatu Bashir but I am known in the movie industry as Hanan. I was born in Kano in the year 1992 meaning I am 24 going on 25. I did all my conventional studies from primary to secondary schools in Kano. However, I am now a student in one of the state-owned tertiary institutions.
Presently, I am an actress as well as a producer in Kannywood. I have featured in more than 50 Hausa movies, majority of which I happen to play the lead character.
WM: How did you venture into acting?
Bashir: While growing up, I didn't see film making as just a business venture.As a young woman, I saw an opportunity to educate easily through movie making. I came to realize that a lot of issues are simplified and easily understood when channelled through movies. This has made me develope interest in becoming an actress, without fully knowing how and when. I kept my wish to myself for a very long time.
In 2011, my wish became more pronounced and I got in touch with some of the big names in the business. It was in that same year, I got my first movie role, and amazingly I played the lead character in my first movie titled 'KotunIbro' which is very rare for new actors. That was how my journey in the Hausa movie industry began. I have featured in movies like 'Rai Dangin Goro', 'Hindu', 'Wani Hani Ga Allah', 'Gaskiya ta fi Kwabo' and many more. I came to terms with the fact that because of my zeal to be part of the industry, I found it very easy to adopt to the rudiments of acting within a very short period, may be that was what made me scale through to many movies casting sessions.
WM: Which among the movies youhave made shot you to limelight?
Bashir: Actually, I always see myself as being lucky because rarely will you find a new actor making a debut as a lead character. Ironically, from the word go, I played lead in my first movie and did same in most of my other movies. However, that doesn't mean I haven't played other roles, I did play minor roles in some movies as well. Therefore, with this development, it is very hard for one to say that a particular movie has shot him or her into limelight.
But if I must answer your question, I will say the movie 'Gaskiya Ta fi Kwabo' can be considered as my breakthrough movie. Remember, this is only my view, my fans may have contrary views depending on what they see as my breakthrough movie.
WM:What is the secret of playing a lead role in your first movie?
Bashir: Secret? [Smiles].Do I have any secret? I am a strong believer in the will of God, whatever happens is the will of God and I thank Him for all he has done to me. My being this lucky has nothing to do with any secret but the will of God.
WM: Since you have been in the industry, what have been your views about it? How has it transformed?
Bashir: Kannywood has indeed recorded a significant developments in recent years, the quality of the stories. The pictures, sound and a lot of other variables have improved but not without some challenges. Moreover, with other vices fulling the industry backward, Kannywood has maintained its ground and has moved ahead to be among the best movie industries in Africa.
Now, as an artist you have the leverage to scrutinize a script before accepting to feature in the movie and you have the liberty to bargain on your fees as against what was obtainable in those days. This has indeed made the industry more recognized and respected.
I believe more good things will continue to flow in the industry and the industry will gradually grow to become a household name in the world.
WM: It is true that you are also into producing movies?
Bashir: Yes it is true. I have produced 'Mero' among others and I am presently working on another one which I hope will be released soon. I am also presently presenting a TV programme titled 'Mata Adon Gari', it is a program that addresses women domestic issues and proper solutions to those issues with a view of cementing family differences.
WM: What is your ambition as an actress?
Bashir: My ambition as an actress is to see that I have succeeded in everything that I do. Success is very cardinal to our survival as humans.
WM: What about marriage?
Bashir:[Smile].The integrity of every woman is in her husband's home. Sure, I would want to to get married someday. I pray for a responsible and responsive man that will marry me for who I am and not for what I am.
WM: Anyone in the pipeline for now?
Bashir: That, I wont discuss in public [Laughter].