Table of Contents
Isa Bello Ja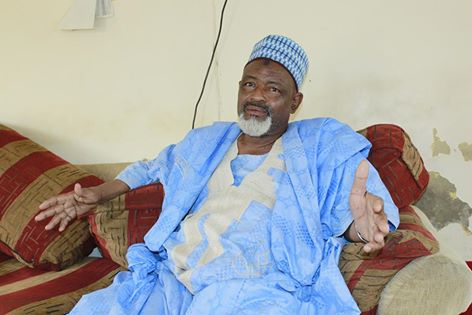 Born Isa Bello Ja
Occupation Actor
"Nigerians should cherish the beauty of diversity"
- Alh. Isa Bello Ja,
Veteran Kannywood Actor.
—————————————————————————–
His name is Alhaji Isa Bello Ja. Kannywood Film Industry calls him Dattijon Arziki (The responsible elder) He is a veteran icon often considered by audiences and commentators to be one of the greatest Kannywood actors of all time. Isa Bello Ja's career spans more than forty years, during which time he has received numerous accolades and honors competitive and honorary, home and away, among them is on Best Culture Promoter awarded to him by Ranar Mawaka Foundation in conjunction with Department of Nigerian Languages of Bayero University Kano. Isa Bello Ja has featured in numbers of block buster Kannywood films, among them are Madadi, Inda Take and Yanar Gizo Gizo. Isa Ja's versatility in acting made him to be regarded as one of the greatest screen performers in Kannywood film history.
He has had an extensive career on TV Drama series produced by Kano state-owned television station CTV (Now ARTV) in the 80s. Some of these home dramas include Hadarin Kasa, Bakan Gizo and Kowa ya bar Gida. On Sunday 23rd August 2015 CITAD4Peace members paid Alhaji Isa Bello Ja a peace advocacy visit at his office located at NDC Quarters, Zaria Road Kano and they were warmly received by the actor. Sufyan Lawal Kabo, who led the team expressed appreciation for the reception and also briefed him on the purpose of the visit which was to solicit for his voice in the call for peace. CITAD with support from MacArthur Foundation he explained has embarked on a peace project titled CITAD4peace aimed at peace promotion and national unity, primarily using social media. Kabo further explained other components of the project which includes conducting training for civil society organizations members to use social media to promote tolerance, diversity and peace in Northern Nigeria, developing and deploying social media platforms to be used to promote tolerance, diversity, and peace and facilitate the formation of peace clubs in secondary schools and tertiary institutions across the region. Responding, Alhaji Isa Bello Ja thanked the team for honoring him by paying him such a visit and also commended CITAD for engaging in such a patriotic project. He also applauded the mediums and strategies being used. "Globally, Social Media is being used as one of the mediums for reaching out all sorts of messages and for campaigns. Peace campaign shouldn't be an exception."
He called on youth to shun drugs and stay clear of war mongers and prophets of doom. "…our country is witnessing its most difficult time in terms of insecurity and youths are the tools being used to fuel all sort of conflicts. I call on Nigerians to stay away from these illicit goons and desist from being influenced by the blood monies they offer. No religion encourages violence. Evil perpetrators only take advantage of the ignorance in our youth to instill them with mystifying ideas in order to achieve their devilish goals. He therefore call on government to provide jobs for the youths. "We must desist from provocative and inciting utterances. Let us be religious tolerant, cherish the beauty in our diversity and preach peace for it is the paramount for any meaningful development. As celebrities, surely we have a big role to play in the call for peace and that's what we'd keep on doing. At the end of the visit Alhaji Isa Bello Ja was presented with some CITAD peace publications. www.citad4peace.org.ng
Source: https://www.facebook.com/CentreForInformationTechnologyAndDevelopmentcitad/posts/973044316085786
Isa Bello Ja Interview a Arewa24
Filmography
Actor
Share this page