Table of Contents
Tsintsiya (The Broom)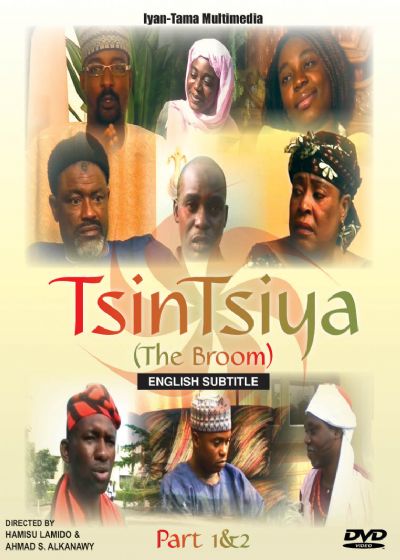 Released ND
Directed by Bala Anas Babinlata
Produced by Hamisu Lamido Iyantama
Starring Hamisu Lamido Iyantama, Abubakar Baballe Hayatu, Amina Garba, Isa Bello Ja
"Tsintsiya"(The Broom), a Hausa movie adaptation of the 1950s classic musical West Side Story has won the 2008 Zuma Award for best film on social issues. Tsintsiya producer, Hamisu Lamido Iyan-Tama received the award presented by an official of the Federal Ministry of Information and Communications at the closing ceremony of the biennial Zuma Film Festival held at the NICON Luxury Hotel, Abuja on May 8th.
Professor Jude Akudinobi, Chairman of the jury and a teacher of Black Studies at the University of California in Santa Barbara, described the 2008 exercise as challenging and rewarding. He said it opened up various angles to engage the diverse and creative energies that feed into the Nigerian film industry known as "Nollywood." He also said that the film festival showed quite clearly the potential and challenge of the next frontier of Nigerian filmmaking, especially the industry's relationship with the global cinema cultures given this year's festival theme," Film Without Boarders."
Tsintsiya is the classic story of love conquering adversity. The story plot is anchored on the similarities between New York in the 1950s, and contemporary Kano Nigeria, a melting pot where industry, commerce, agriculture, creativity, and a vibrant economy has been destroyed by sectarian violence, ethnic suspicions and distrust of one another.
The movie celebrates Nigeria's rich ethnic, cultural and religious influences as great strength to the nation, much as the broom in the classic Hausa metaphor is strengthened by the binding together of its individual strands.
Synopsis
Sani and Helen are students of the same university in the predominantly Muslim, northern Nigerian state of Kano. Sani defends Helen, when she was being chastised in school and eventually the two came to fall in love. To fledge in their new found love however, they must face the strong obstacles that confront them, the resistance of their respective parents to inter-religious marriages, and a society where deep religious and ethnic differences are rife and, would only require the minutes of provocation to flair up passions.
Cast
BABALLE HAYATU, FRANSISCA ISAAC, JOSEPH CHIDI, ISA BELLO JA, HAJIA AMINA GARBA, LORETTA PATRICK, HAMISU LAMIDO.
Tsintsiya (The Broom) Trailer
Links